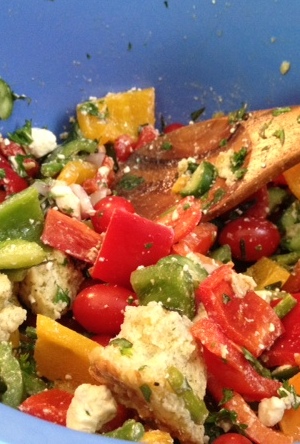 Panzanella
You can use any vegetables you like. I used: A mixture of red, green, yellow and orange peppers, seedless cucumbers, grape tomatoes, red onions, some lightly sauteed asparagus, and tossed them with some fresh basil and parsley, about 1/2 cup each and one part red wine vinegar to two parts olive oil.
Salt and pepper to taste. Some recipes I saw called for Kalamata Olives. I would have liked to have added some squash and maybe some carrots.
Then we tore some garlic parmeson foccacia, but you could use any sort of heavy bread. You are supposed to use day old Italian bread.
Oldham County Homes for Sale
December 3, 2023