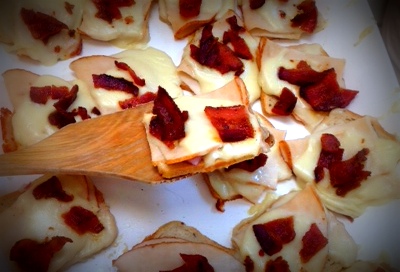 Hot Browns
1 chicken bouillon cube
1/4 c. hot water
3/4 c. half-and-half
3 T. unsalted butter
2 T. flour
1 c. grated Swiss cheese
5 strips bacon, cooked, crumbled
1 onion, sliced thin
6 oz. cooked turkey, thinly sliced
18 slices party rye or sm. French bread
Parsley
Dissolve bouillon cube in hot water; add half-and-half in a saucepan.
Melt butter and add flour. Whisk and cook until mixture is frothy and raw flour taste is gone. While stirring, add the bouillon mixture. Stir constantly with a whisk until the sauce thickens and begins to bubble. Add Swiss cheese and stir until smooth. (If sauce needs to be thinned,heat and add a little water.)
Assemble hot browns by placing turkey and onion on each bread slice. Top with sauce and crumbled bacon. Heat at 350° for 10 minutes. Garnish with parsley. Yields 18.
Note: This is an appetizer recipe that I turned into a dinner entree by using 6 slices of pumpernickel or any other durable bread. You can also use skim milk instead and it turns out just fine.
Homes for Sale near 1302 Old Taylor Trail
December 3, 2023