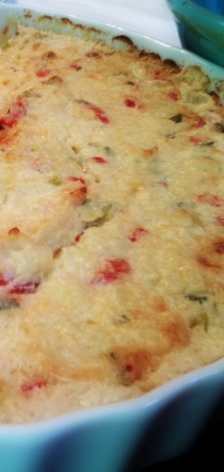 Hearts of Palm Spread
Servings 25. Prep time 1 hour
14 oz can hearts of palm

3/4 c Parmesan cheeze, grated

3 T green onions, chopped (I probably use a little more)

2/3 c mayonaise (light or fat free works just as well)

1/4 c sour cream (same there, light or fat free works well)

2 T pimiento, minced.

1/8 tsp cayenne pepper
Drain palm. Chop finely.
Reserve 1 tablespoon each: Parmesan and green onions.

Mix palm with remaining ingredients. Spread in shallow baking dish. Sprinkle with reserved Parmesan and green onions. Bake 20 minutes at 350 degrees. Broil till light brown on top.

Serve with toasted (lightly-both sides) thin slices of baguette. Let guests apply spread to toast. (it is best with simple baguette so you can enjoy the flavor of the hearts of palm, but Triscuits or Wheat Thins or a simple water cracker work well too.

I always double the recipe as people eat way more of this than they should -- it is so yummy!
Updated Daily: Active Listings in Oldham County Kentucky
September 26, 2023