Are Ranch homes all the rage in Louisville?
Posted by Pam Ruckriegel on Friday, March 8, 2019 at 2:30 PM
By Pam Ruckriegel / March 8, 2019
Comment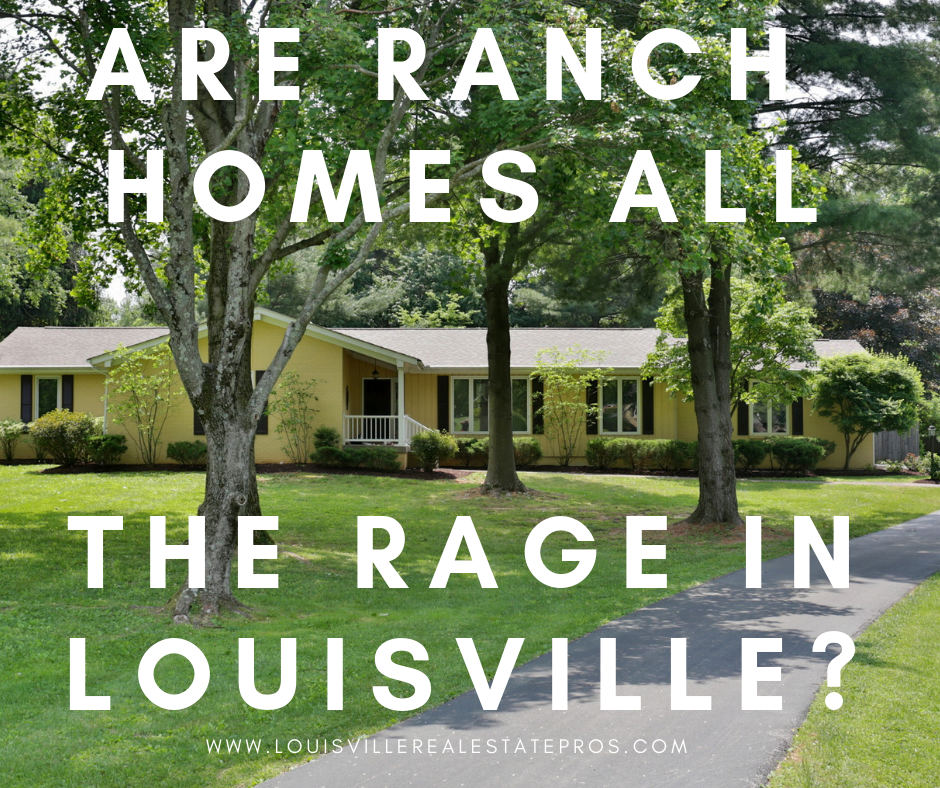 Much like spray cheese, Black Friday and a good ol' cheeseburger, the ranch style home is unique to America, capturing the hearts of homeowners for years. Ranch homes first came to existence in the 1920s but were coined "ramblers" at the time. By the 1950s, the ranch home swept the nation and was by far the most popular choice, albeit transforming overtime to several variations including the California, storybook, suburban, raised, and split-level ranch. There are plenty of neighborhoods who feature a large number of ranch homes for sale. If you're trying to find a ranch home for $500,000 and up, you'll love neighborhoods like Norton Commons and Rock Springs. For ranches from 350-500k, Barbourmeade, Brownsboro Park, and Hurstbourne have lots of options. Ranches in the 150k-350k price range are the hardest to find, most sought after homes. Apple Valley, Ashbrooke, Austin Woods, Barbizon Place, Barbour Manor, Beechwood Village, Bellemeade, Breckenridge Estates, Broadfields, Brook Haven, Chenoweth Hills, Creekview, Crystal Lake, Douglass Hills, Four Seasons, Friendly Hills, Germantown, Graymoor Devondale, Heritage Creek, Highgate Springs, Hurstbourne, Idlewood, Lakeview Estates, Meadow Vale, Midlane Park, Plantation, Prairie Village, Schnitzelburg, Spring Falls, St. Regis Park, Timothy Hills, Treasure Island, Windsor Forest, Windy Hills, and Woodlawn Park account for hundreds upon hundreds of the ranch homes sold in Louisville.
Homeowners often seek the ability to customize and put their own flare on a home. While ranch homes provide this opportunity at almost every turn, they also have some defining features that set them apart from other homes. When touring a ranch home, you can expect to see large windows, sliding glass doors (let all the light in!), an attached garage, low-pitch rooflines, a back patio, and a plethora of exterior materials including but not limited to brick, stone, stucco and wood siding. On the inside you'll find bedrooms separated from the living area, single-story living often in an "L' or "U" shape, and the ever-so-popular open concept living, dining and kitchen area. Depending on the area of the nation, you'll also often find ranches with a full basement, opening up the potential to double your square footage.
There is a major draw towards the ranch style in Louisville. The main reason is no stairs. You'll hear the term "one level living" as you search for homes. (Hopefully your realtor is doing most of the looking for you!) One level living is great If you need your bedroom, kitchen, living area and kitchen in one place. Not having stairs is also safer for friends, family, and pets. Since there's no second story, ranches are easy to escape from if there is an emergency and maintain without a giant ladder.
Through recent decades, ranch and two-story homes have fought over the number one spot in popular home choice. While this battle will likely continue, there is no denying that the classic style of a ranch home (with its numerous customization options) and its sprawling layout will keep homeowners coming back for more.
Trying to find a Ranch Home in Louisville, check out the current homes for sale below.