Pros and Cons of Holding Open Houses in the Louisville, KY Real Estate Market
Posted by Pam Ruckriegel on Monday, October 26, 2015 at 9:00 PM
By Pam Ruckriegel / October 26, 2015
Comment

If you currently have your home listed on the market, you have probably wondered about the importance of holding an Open House. Will my house sell quicker if we hold an Open House? Does everyone do it? What if we don't really want to have an Open House? These valuable questions are all part of the thought process when selling your home. Ideally, you have a Realtor who has discussed the pros and cons with you. A knowledgeable Realtor can offer their insight as to why or why not an Open House is necessary.
Click here to view upcoming Louisville Open Houses.
Here at the Louisville Real Estate Pros office, we have quite a bit of personal experience in the home selling process. Whether you are a first time home seller or you are familiar with the process, we have the knowledge and current market research to back up our view on why an Open House may or may not be beneficial for your specific home for sale.
Selling your Louisville home? It might be worth more than you think!
Pros of Holding a Louisville Open House
An Open House can give your home for sale a lot of extra exposure. Think about the marketing involved just when listing your home. An experienced Agent will market your home within their own office or area. They will create online articles or blog posts to market your listing online. (Nowadays, many buyers start their search on the internet before getting in touch with a Realtor.) A knowledgeable Agent will place a sign in a visible section of your property and possibly at busy intersections nearby. They will continue to reach out to potential buyers in your market until your home is sold. Likewise, the same types of marketing happen when you hold an Open House. Newspaper ads can be placed. The time and location of your Open House will be shared online across various Real Estate companies. There may even be Open House signs placed near your home to grab the attention of those passing by. An Open House certainly offers an extra boost of exposure across all the types of Real Estate marketing.
An Open House offers a no pressure situation to buyers. When someone is just beginning the home buying process for the first time, they may have no idea where to start. An Open House provides these beginning buyers with a way to get a feel for what type of property they are looking for. The period available for potential buyers to walk through your home gives them plenty of time to discuss what they may like or dislike. It's a true no pressure situation.
An Open House may push an already interested buyer to make an offer on your home for sale. Some active buyers use Open Houses to walk through properties that they have already seen during a private showing. Maybe they visited your property early during their home search, or maybe they were on the fence initially. If a buyer is interested in your home and sees a large number of other buyers also viewing your property, they may be driven to make an offer. Buyer competition is a great thing for a seller; competition can lead to multiple offers. That is definitely a win for a home seller.
Cons of Holding a Louisville Open House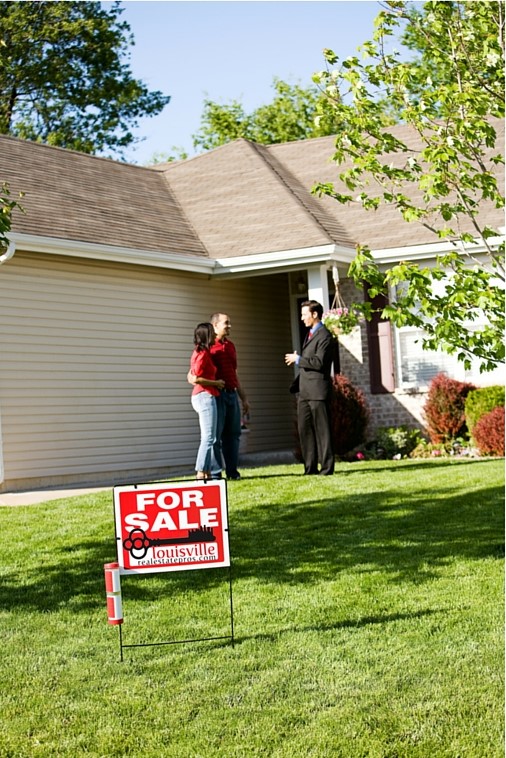 An Open House will bring in a lot of unqualified buyers. Whether it's a potential buyer who has not yet received a mortgage pre-approval or just a neighbor who wants to see your recent renovations, Open Houses frequently drawn in people who most likely will not be buying your property. So although there could be a high level of traffic walking through your home, it doesn't necessarily mean that many people are interested in buying.
An Open House is not statistically proven to lead to a direct sale of your home. It is pretty rare that a buyer, who views your home for the first time at your Open House, will in turn make an offer. Most buyers choose to work with a knowledgeable Realtor. If your home meets the buyer's requirements, their Realtor has probably already shown your home's details to them. If someone is serious about your property, they will schedule a private showing.
Some Final Thoughts on the Pros and Cons of Open Houses
• Each home for sale is different than the next. Your Realtor may suggest an Open House if it will help gain the exposure your home needs. Location, number of days on the market, and overall number of showings are all factors that play into your Realtor's suggestions.
• If you are beginning the process of listing your home for sale, ask your Realtor about their view of holding Open Houses up front. Whether or not you decide to hold one, the decision should be a part of your plan from the start. With an experienced Realtor, a solid game plan, and up-to-date marketing tools, selling your home doesn't need to be a lengthy process.
• If your Realtor suggests skipping the Open House, be sure to discuss other marketing options with them. They should be able to offer you a tried-and-true marketing plan; it should be a plan that has proven its worth. Ask for statistics. A Realtor that has real experience in your specific Real Estate market should be able to provide you with their past successes. Don't be afraid to interview your Realtor to be sure they are the right fit for the job.

Do you have more questions about what it takes to sell your Louisville home? Pam Ruckriegel with Louisville Real Estate Pros at Keller Williams Realty Louisville East has the Real Estate experience you are looking for. Contact her today! 502-435-5524.