Kentucky Kingdom Preparing for Big Comeback
Posted by Gerri Willis on Monday, March 11, 2013 at 9:17 AM
By Gerri Willis / March 11, 2013
Comment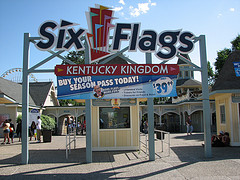 Since closing its gates in 2009 the Kentucky Kingdom amusement park off
Crittenden Drive
has sat vacant. Unused and looking like the perfect Louisville real estate for a "spooky" Scooby Doo episode, it's been a disappointment for those that remember its heyday fondly. But there was always hope that it would one day spring back into action and this month another big step was taken in that direction.
The investment group that has agreed in principle to lease the grounds moved into their new offices this month and began assessing the property and gearing up for a major overhaul. It's welcome news to those living in
Louisville
and points to brighter days ahead for the well-known park.
With a 50-year lease that includes a promise to invest 45 million upfront to renovate the park and at least one million each year thereafter, the new deal lends stability and eases fears that the park will fall into disrepair again. The new owners are in the midst of assessing the more than 100 buildings and 40 rides that reside on the 60 acres of land in Louisville. Homes in the area, actually, may soon be getting used to the carnival sounds in their neighborhood quicker than expected. The park hopes to open by May 24th, 2014 and that's great news for the local economy because they're expected to hire 50 full-time employees soon with an additional 1,000 workers to be hired as seasonal help when the park opens.
Announced plans include bringing back most of the existing rides, more than doubling the size of the waterpark, and for two unnamed new attractions to find a home in the park.