Protect Yourself: 8 Reasons to work with a Realtor
Posted by Pam Ruckriegel on Friday, November 6, 2015 at 10:00 AM
By Pam Ruckriegel / November 6, 2015
Comment
When planning to buy a home, there are a lot of things to consider. What are you looking for? What are you willing to pay? Where are you going to look? These questions are just the tip of the iceberg when it comes to finding your perfect home. Because there are so many aspects of the home buying process, many people decide to work with a Buyer's Agent. Here are 8 benefits of working with a Buyer's Agent that you may want to consider also.
You may also like: How to Create Your Home Buying Wish List
#1. A Buyer's Agent will know about the current real estate market. As a buyer, maybe you have already done some research. You may have a pretty solid grasp on what you can expect to find when starting your search. However, a Buyer's Agent has that knowledge and plus some. Their experience from working first hand with other buyers puts them personally in the know. Working with an Agent can give you the upper hand when it comes to truly understanding the current state of the Louisville market.
Planning to sell your home? It might be worth more than you think!
#2. A Buyer's Agent will help you manage your expectations. A good Agent will take the time to sit with you and discuss what you are looking for in a home. They will be able to ask all of the right questions when it comes to cost and location. Having someone with real experience will assist you when it comes to having a grasp on what to expect. Maybe you are interested in a popular area; a Buyer's Agent can paint the picture for you when it comes to realistic price points. Or maybe you just don't know what to expect at all! Your Agent should be able to talk to you about their recent buying experiences to get you to a place where you feel more comfortable with the buying process as a whole.
Are you also selling a home? You may also like: 5 Questions to Ask Yourself When Preparing to Sell Your Home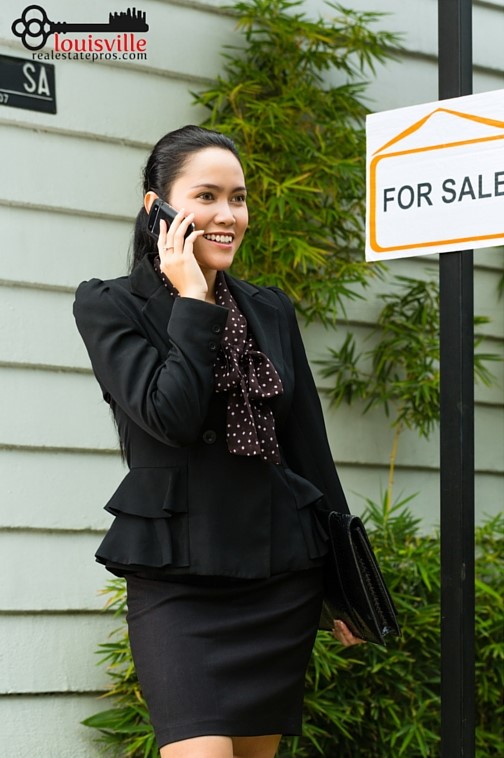 #3. A Buyer's Agent will handle all of the negotiations. When it comes to getting you the best deal, your Agent will work their hardest. From the time an offer is made until the time of closing, your Agent will handle the back-and-forth that tends to happen during the negotiation process. If you receive a counteroffer, your Buyer's Agent will reach out to you of course, but all the information will be presented to you as a whole. A Buyer's Agent will also be able to ask questions that they already know you will be interested in. Overall, having an Agent who is experienced in the home buying process handle the negotiations can save you a lot of time.
#4. A Buyer's Agent will make sure all of the paperwork is completed correctly. There are a lot of papers, forms, and signatures involved in the home buying process. Having an experienced Agent there to handle this aspect is a huge help. Your Agent will know what needs to be done, and you will basically just need to read and sign. This part is one of the main reasons people decide to use an Agent. Remember, an Agent handles this paperwork on a daily basis! To most people, especially a first time home buyer, there can be a lot of stress with making sure everything is done correctly. A benefit of working with a Buyer's Agent is the peace of mind knowing that you will be ready for closing.
#5. A Buyer's Agent manages deadlines. This goes along with #4. Using an Agent can significantly reduce your stress level when it comes to deadlines. While you may be working all day long and thinking about your soon-to-be new home in the evening, your Agent is working specifically on home buying paperwork and deadlines. While a deadline for a buyer may be part of their long to-do list after a tiring day at work, your Agent has your home buying deadlines on their office to-do list. Knowing that there is an experienced professional handling deadlines is a game changer for most buyers.
#6. A Buyer's Agent has the experience necessary for handling issues. It's a pretty common occurrence that some sort of issue will arise during the home buying process. Whether you've found a home that is receiving multiple offers or some maintenance issues come up during the home inspection, your Agent has the know-how to address and handles these instance in a timely manner. Again, it's all in a day's work for a Buyer's Agent!
#7. A Buyer's Agent has many resources when other home services are needed. Not only does an Agent know how to handle an issue, but they also know where to find the person to help. Over the course of their time in real estate, Buyer's Agents can't help but compile a list of resources that have proven that they provide good work. Whether you need a reliable home inspector, someone to address a structural issue with the home, or just a connection to a dependable painter, your Agent is sure to have a great local connection to pass along to you.
Are you relocating to Louisville? Grab our free Relocation Guide to get started!
#8. A Buyer's Agent does not cost the buyer anything! Here's the kicker. A Buyer's Agent is included in the percentage that the seller pays at closing. So as a buyer, you pay nothing towards the time spent working with an Agent.
With these many benefits in mind, would you ever skip over working with a Buyer's Agent? They will educate you on the current market, reduce your stress level associated to paperwork and deadlines, and they don't cost you anything! Talk about a WIN-WIN situation!

Are you thinking about finding your Louisville dream home? Contact Pam Ruckriegel with Louisville Real Estate Pros at Keller Williams Realty Louisville East to get your questions answered today! 502-435-5524.