5 Simple Steps to a More Organized Home
Posted by Pam Ruckriegel on Wednesday, July 8, 2015 at 10:20 AM
By Pam Ruckriegel / July 8, 2015
Comment
Be ready for home showings in no time with these 5 basic steps!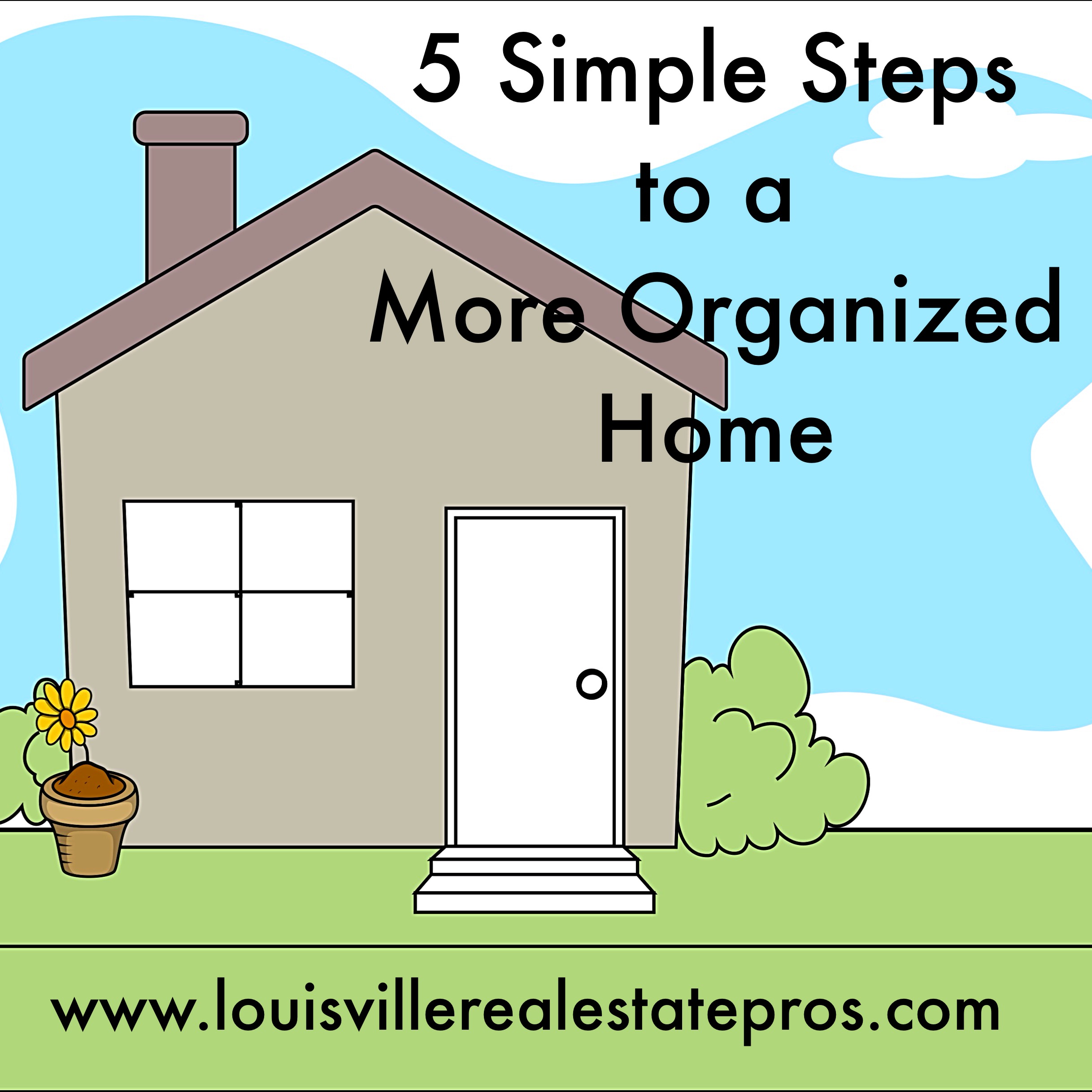 For most of us, maintaining an organized home is a never-ending battle. There are times when the place looks great and we feel like we finally have it under control. Other times, especially if you have children, it can feel like you're drowning in a deep sea of stuff. Truly, it happens to all of us. There are even a lot of people out there that will admit they have delayed selling their home because they just can't get through the clutter. (Organizing your home is an essential step in keeping your sanity while you have showings.) What's the good news? There are plenty of small changes that can be made to make a huge difference in the long run. Check out this list of 5 simple steps to maintaining a more organized home!
Step #1. Start everyday cleaning on a surface level.
This may seem obvious, but any sort of deep cleaning is near impossible when your home surfaces are cluttered. When you start to attack a room, clear all the tables and shelves of extra clutter first. Don't even think about sorting through your kitchen's inevitable junk drawer until you've done the dishes and sorted through that week's worth of accumulated mail. What about your bedroom closet full of unorganized shoes and clothes waiting to be donated? Ignore it until you've made the bed and put away the jewelry scattered on top of the dresser. Sometimes it's hard because you feel like you'll never get to the deeper decluttering. Trust me though; the first step to an organized house is to clean off the junk collecting surfaces. Once you've done this, set a goal to organize one drawer or shelf at a time. No matter what you envision accomplishing for the day, attack one space (start to finish) before beginning on another. There is nothing worse than working hard for an hour only to turn around and see the room more of a disaster than when you started. Deep organizing and decluttering can take a while if you haven't kept up with it, so work in small sections. You'll be super glad you did!
Step #2. Use a 3-box system, and sort as you go.
While you're working to clean out one small section at a time, use a 3-box system to make sorting simple. Label one box "To Keep", one box "To Donate", and one box "Trash". As you sort, toss your items into a box according to its destination. Once your space is empty, return the "To Keep" items back to their home. If the item belongs in a different room, immediately take it to where it should be. Remember, you want to avoid yet another pile to sort through at the end of your organization session. If you have an item that you can't bear to part with, but it won't be used in the near future, place it in a storage box. A neatly packed (and labeled) box in storage can be easily accessible in a less frequented closet, attic or basement. The key to getting organized is to lessen your clutter and create a clearly labeled organizational system. Make it work for you. Just use this example as a way to get started, and perfect it as you discover what works best for your household.
Step #3. Keep a toy box in the living room.
This may sound unappealing, but hear me out! If you have children, you have toys in your main living space. It's just a fact of life. There's an easy solution to dealing with the clutter that always seems to migrate into the spaces of your home where it is not as welcome. Purchasing a toy box or some sort of basket that works with your room's décor is a definite way to stay organized in the midst of your daily hustle and bustle with little ones! Think creatively here too; a toy box doesn't need to be a bright colored plastic bin. A wooden crate with a closing lid would be perfect. Not only does this keep toys out of sight, but it makes clean up super easy. The number one rule of keeping an organized and tidy home is to start each day with a clean slate. Having an easy way to clean up toys tonight is the first step in ensuring organization tomorrow.
Step #4. Take control of the laundry pile.
For a lot of people, a huge source of frustration at home is the never-ending pile of laundry. A life changing tip here is to always run a load of laundry, start to finish, before throwing another one into the machine. No matter how much you want to, do not begin washing more clothes until the dryer is empty and everything is put away in its place. Doing so might feel like you are slowing the process, but you will avoid the extra clutter and chaos that comes from clean clothes being thrown on top of the dryer or folded and piled on the beds. A laundry basket in each bedroom, along with multiple in the laundry room for color sorting, will help you stay organized and on top of the laundry pile.
Step #5. Create a file system to keep paperwork and mail under control.
This is my number one struggle: piles of paper. Creating a filing system that works for your situation (and sticking to it) can drastically change the amount of clutter on your countertops. Try purchasing two file bins to keep in the area where your mail comes in the house. Label one "Keep" and the other "Needs Attention". When any mail, paperwork, or children's school work comes into the house, immediately sort through it. If it's a bill or something that needs further attention, you know which bin to place it in. If it is something that doesn't need your attention, but you aren't going to throw it away, place it in the "Keep" bin. Then get rid of anything that you don't need. The garbage can is your friend in this area! If you need to keep a lot of the paper that comes through your door, you will want to have a more permanent file system as well. A filing cabinet or file folders in a desk drawer work perfectly. Once your "Keep" bin is full, take the time to file its contents into your filing cabinet. Having these two small and easily accessible file bins will make cleaning off your countertops a quick process. It's much easier to stay organized when you have a way to keep it under control right at your fingertips.
Although there are hundreds of tips out there to help you organize your home, these are my top 5 steps to making that a reality. They are home tested and sure to make a difference in even the most unorganized household! Whether you are in your forever home or planning to sell your house in the near future, use this list as a guide to making your home the place where you truly love to spend your time.
What other organizational tips do you swear by? Share your ideas with us; we all need a little guidance sometimes!
Are you organizing your home with the plan to sell? We have even more tips to share! Contact Pam Ruckriegel with The Louisville Real Estate Pros at Keller Williams Realty Louisville East. 502-435-5524.