2013 St. Patrick's Day Parade in Louisville KY
Posted by Gerri Willis on Friday, March 8, 2013 at 1:33 PM
By Gerri Willis / March 8, 2013
Comment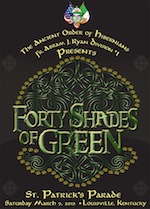 The 2013 St. Patrick's Day Parade is upon us! Saturday, March 9 at 3 pm the fun will start at Broadway and Baxter and flow down Bardstown Road until it reaches Mid City Mall (1250 Bardstown Road- if you get to Rosewood you've gone off the route).
You can expect about 125 participants in the parade- some throwing candy, beads or other neat items for kids. Everyone is encouraged to set up shop on the sidewalk (either side) and have a great time. Remember though, the language can get a bit colorful the closer you are to the bars (Molly Malones, Finnegan's Ale House and O'Shea's Irish Pub). It's all in good fun, no unfriendly rowdy behavior, just make sure to bring some earmuffs for your kiddos if you don't like excited colorful language and you want to hang at the bar scene. Expect around 50,000 people to attend- based on last years numbers.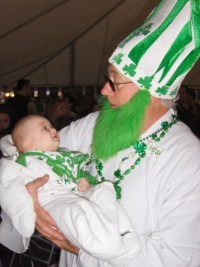 If you're lucky the Irish Pope will stop by and bless your baby

I can't wait to see what they do with this year's theme -- "Forty Shades of Green" . There won't be any hanky panky though, as this is one of Louisville's Best Kid Friendly events. It's my guess that they are referencing the parade-goers that feel a bit green the next day from all the good times (and beer!). It's definitely worth your while to skip the UofL/Notre Dame game down at Yum to share in a 40 year old Louisville tradition. You won't be disappointed!