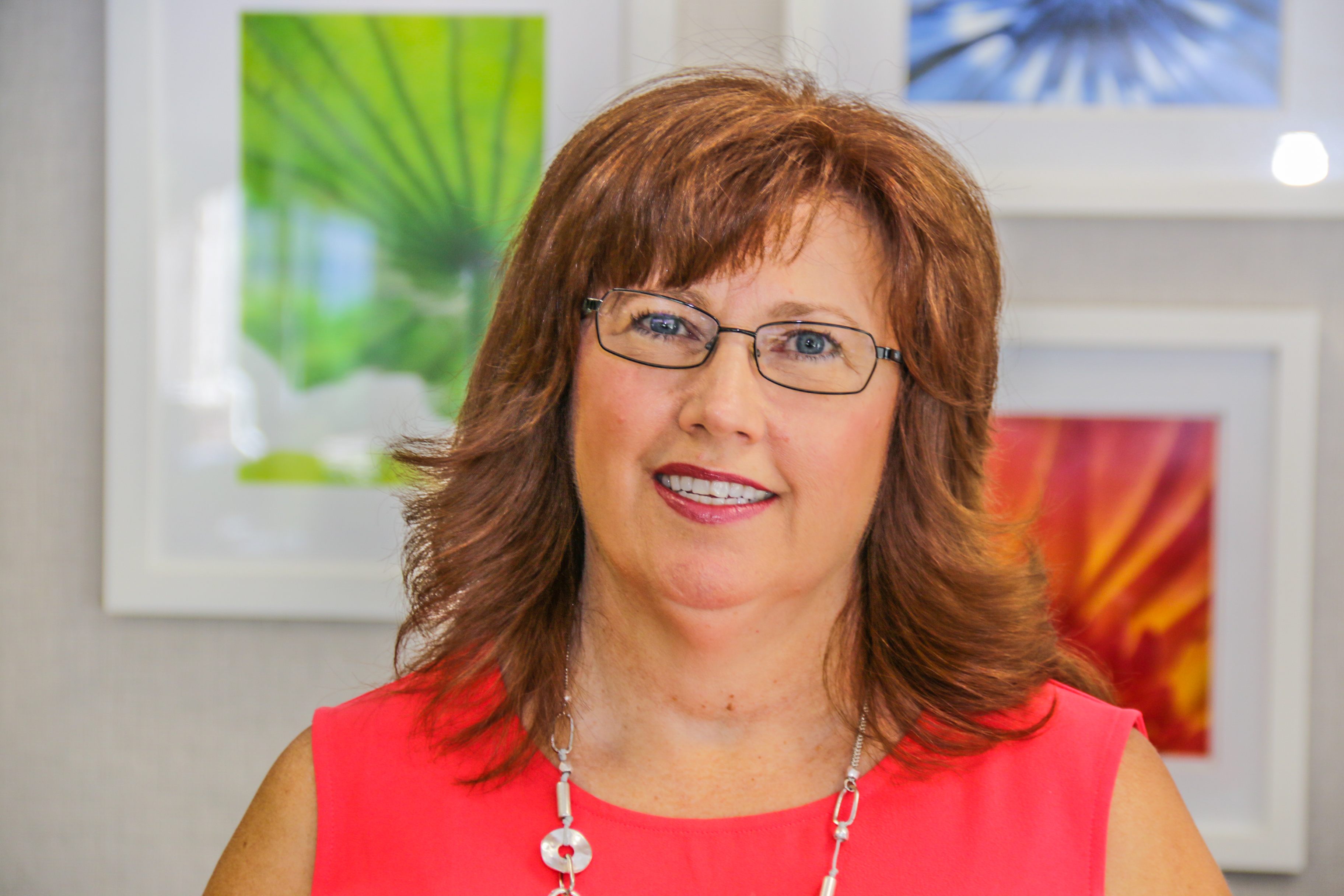 Pam Ruckriegel: Lead Agent
I have worked in the Louisville, KY real estate business since 2004. Believe me when I say the time has FLOWN by! My love of the business began when I worked as the PR Manager for Weichert Realtors at their headquarters in New Jersey. After working with so many great agents in a 24 office region, I was inspired to obtain my own real estate license. I wanted more personal contact with clients, and working to be the area's best Realtor has provided me the opportunity to have just that!
Having personally endured three interstate relocations, I am in a unique position to empathize with the stress that families face when moving to a new area. I strive to get to know each of my clients on a personal level and truly understand what they are looking for when buying or selling a home. As a specialist in relocation, I help clients learn the different flavors of each area of town, understand the area's school options, and have a true feel for what a day in their Louisville life might look like. They are putting a lot of trust in my knowledge of Louisville's real estate market, and I take that trust very seriously! I love sharing the experience of home buying or selling with my clients not only as their guide and Realtor…but also as a friend.
Whether you are visiting our website as a home buyer or seller, I am here to help. My team and I have a well-oiled system in place that is sure to assist any buyer or seller get the results they want. You tell us what you are looking for, and we listen. We won't stop until you, as our most valued client, are satisfied. We have the technology, ideas, and expertise to guide you through a swift home buying or selling experience.
Previous clients will tell you that I'm a "go getter", and I couldn't agree more. My proactive work ethic gets us the results we are looking for; there's no room for wasted time in real estate!

Contact Pam
502-435-5524
pam@louisvillerealestatepros.com
Some More Fun Facts...
In a divided city, Cards or Cats?
CARDS all the way!
Best kept Louisville secret?
Annie's Attic in Middletown and Charlotte's Web in St.Matthews. I love consignment shopping, and these two places have the neatest finds. They are great places to check out when decorating your new home!
Best Kentucky Derby memory?
I remember watching the races in Chicago while I was in labor! My daughter, Jayme, was born in a photo-finish with Unbridled.
See what people are saying about their favorite Louisville Realtor
Pam was very informative and made us feel comfortable in trying to make decisions. She understands that we have never done this before and made us feel very comfortable.
A. Swearingen
Pam is awesome!!! Above and beyond. A great realtor to have on your side!
S.C.
Experienced Real Estate Agent, Pam walked us through the selling process and negotiated a contract within 15 days of listing the property. Shes extremely detailed oriented and her team are as well. Pam is respected in the community and absolutely enjoys her team and provides excellent service to her clients.
A.C.
I want to take a moment and highly recommend Pam to anyone wanting a good realtor. She was ansolutely amazing in our home buying process. Thanks!
A.C.
If you need a realtor,
Pam Ruckriegel
is the best! She keeps your vision in mind and reminds you when you easily get sidetracked by things that weren't on your must-have list She is patient (she took us to more than a dozen houses), honest and fun!When we moved here she was the one who helped us learn about Louisville and when we were ready to buy after a year she got us into our ideal home.Thanks Pam! You're awesome!
A.Camba
Pam has been absolutely amazing to help me and my fiancé purchase our first home! She is responsive, friendly, and professional. Her prudent experience was so helpful to us throughout the entire process. She explained everything to us and always answered our questions timely. We would highly recommend Pam and would seek her guidance in the future again!
A.Ewing
I have worked with Pam for years and have always been taken care of. I expected this time around would be more difficult given the current market. But we found our dream house right away and Pam made it happen. She's great at negotiating with other parties and truly looks out for her client's best interests. She's the best.
J.Williams
Pam was outstanding. She was super patient with us as we made several trips to Kentucky, including Friday nights. She always made time for us. She had a lot of helpful tips and had connections to homes that weren't on the market yet. We really appreciate her expertise and highly recommend her to anyone looking for a home.
S.Larson
Pam is a wonderful realtor. Kept me informed every step of the way from the beginning of finding my home to the closing and making sure I was settled. Thank you Pam
B.Davis
Pam did a great job showing me and my boyfriend, Ernie Woodworth, various patio homes. She was able to negotiate a good price. The closing was very fast. She was so great to work with that when my boyfriend wanted to sell his home he asked her to help him again. Despite the house needing a lot of upgrades she was able to get an offer which was the amount of money he wanted. Pam sold the house very fast and with very little hassle. Whenever we contacted her with a question she got back with us quickly. Both Ernie and I feel she is well deserving of the five star rating.
N.Bickel
We just absolutely love Pam! Pam is the most professional yet most personable real estate professional out there. We were first time home buyers who entered into a market that felt impossible, but Pam is always up for a challenge! She tirelessly worked to help us find our home and we cannot thank her enough for that. Pam is an outstanding communicator, she is responsive, creative, honest, dependable, and makes the home buying process feel like a piece of cake, which is no easy task! She truly treats her clients like VIPs and takes the time to study your unique family situation, financial situation, time line, and home preferences to produce the precise outcome you're hoping for. We could not have been in better hands. Thank you, Pam!
A.W.
My fiancé and I really enjoyed working with Pam to buy our first home. She dedicated 2 hours to our initial consultation, getting to know us and teaching us about the real estate market before we had even signed on with her. She really cares about her clients and finding a great home that really works for them, and not just about making a quick sale. She's super knowledgeable about the real estate market and is a great negotiator, so she'll guide you every step of the way from making an initial competitive bid to arranging final details with the sellers. We would highly recommend Pam to anyone who's looking to buy or sell a home!
C.Redmond
Pam is PHENOMENAL! We've used her to buy our first home. And now sell it and buy our next home. She makes it easy to trust that she is working for us! I can't recommend her talents enough! She is super knowledgeable and excellent at negotiating! She got us five offers in one day all for tens of thousands more than asking! Incredible!
D.Flowers
As a first-time buyer I really had no clue of where to start and what the important questions I needed answered before putting in an offer or deciding if a home was a good fit for me or not. I met Pam at a home I was interested in and not only did she explain the home buying process crystal clear but she also pointed out things in the home that were good and bad. Pam really knows what she's doing and she is not PUSHY in any way on buying the first home right away. When buying a home you want the realtor to be persistent and reachable. She would let me know if she was going to be unreachable for a couple of hours but she always found a way to communicate with me. I did see about 5 homes with Pam and with every single one she gave me her honest opinion on my chances of getting the home in this high-demand market although it wasn't always the best news to hear at least I wouldn't get my hopes up on a house that was going to go past my price range. I actually only had to write 2 offers and the second offer was accepted because of Pam's excellent work. She knows how to make your offer competitive and that's something that is key in the home-buying process. She helped me through the whole process from beginning to end and even after the home closed. Pam is an excellent real estate agent in short words. I recommend her to EVERYONE!
F.Baggett
Pam is our family realtor! My immediate family has purchased 4 houses from her. She is professional and a master at negotiating! She just sold our house in one day for 10's of thousands over our asking. She negotiated 5 offers for our house (all over asking and non-contingent), and amazing terms that allowed us total freedom in our search for our next home. She is absolutely amazing and we can't say enough. If you are able to use her as a realtor, you are truly blessed! A trusting person that you can depend on for advice. Pam, thank you!
M.Flowers
I feel Pam is my personal realtor. She helped us buy one home in Louisville, sell one and we just bought another one. She knows what she is doing and does it professionally. We are out of town and she would video chat with us and show us homes. That's how we found our new home and when we came to town to see it, it was perfect for us. I must also mention Gerri. She is great in helping you navigate the selling and the buying process. Gerri keeps on top of things and everything goes smoothly. I highly recommend the team of Pam and Gerri.
J.Jones
We've worked with Pam to buy and sell our first home, buy our 2nd home, and now we are working to get into investment properties. She is so knowledgeable of Louisville Real Estate and has given us excellent counsel in all of our deals! She is honest, and truly seeks the best deal for her clients. In doing so, she earns every bit of her repeat business and referrals!! I am very excited to continue working with her in the future and I always recommend her to my friends and co-workers who are looking for an agent. She is THE BEST!
J.Toth
We love working with Pam! We are repeat clients because she gets in there and gets it done. She helps make the process of buying and selling a home much less stressful than it typically is! We recommend her to anyone we know looking for a realtor.
C.Williams
As a first time home buyer in a new city I was incredibly impressed with Pam Ruckriegel. Within twenty minutes of speaking to her all of my fears of being taken advantage of or misguided diminished. Pam is knowledgeable, trustworthy, fun to work with, patient and organized. I can't thank her enough for being the person that she is and helping us find our new home!
J.Brandon
Pam and her team did an amazing job marketing and selling our home. From the very start, she was up front and honest about the entire process, beginning with how we should price and extending all the way through the photos and staging process that we all love to hate so very much! I'm pleased to say that our home sold in THREE WEEKS (12 showings total), and we are very happy with what we got for it, too. Although it hopefully won't be for a long while, we will definitely turn to Pam again in the future with any real estate needs, and I'll be sending all of my friends and family her way.
S.Schardein
We had a wonderful experience working with Pam and her team. She made an extremely stressful process feel manageable and easy going. We listened to her advice and sold our house in 10 days. She has a great talent and we appreciate all her hard work!
J.Theil
Working with Pam was wonderful. She was always willing to help when we wanted it, but never pressured us.I am positive my house would not have sold as well as it did without her help in staging. And I would never have found on my own, the perfect little tucked away house she found for us.
Can not say enough good things- thank you Pam!!!
P.Noltemeyer
Pam has helped us with several moves over the years and we have never had a complaint of any kind. She is competent, responsive, pleasant to deal with, and goes above and beyond when the situation calls for it. The recent house she helped us with is perfect for us and without her, it could not have happened. We know how lucky we have been to have such a fine professional helping us.
J.Daniel
Pam is a delight to have on your side advocating for you to invest in your dream house, in good condition and for the right price!!! She has an incredible team working on her side and she is full of great resources, as well as dependable, efficient, and trustworthy referrals for home repairs and / or home improvements. She works hard, goes above and beyond, and friendly!!! She plays hardball!!!
S.Clemmons
Pam was great to work with. She was very knowledgeable on the Louisville market. She was available whenever we called her, and worked hard to sell our property. We would definitely recommend her to anyone selling their property.
M.Uveges
Pam did an amazing job helping us find a great home! We would highly recommend her to anyone looking to buy or sell. She is very current with the market and professional.
NextLevelSportsNutrition
Pam Ruckriegel is an Outstanding realtor :) My husband and I was Very Happy with her went it came to sale a house that we had she did an awesome job. She has a Great personality and very well like.... to my husband and I she is the number 1 realtor and we would use her once again.
E.Tincher
I would recommend Pam to any of our friends, family, or co- workers. She is extremely knowledgeable of the area, the market, and process. We feel Pam has kept our best interest in mind every step of the way and we are appreciative of her time and talent!
J.Noltemeyer
It has been a pleasure to work with Pam. She has been most helpful and efficient in every aspect of the selling process. It has really been painless even being an emotional sell of my mom's home. I am thankful for all her help!
J.Hicks
It was a pleasure to work with Pam! She was very responsive and knowledgeable of our questions. Pam made us feel comfortable during the whole process. I would highly recommend her services!
A.Kelcy
Pam was very easy to contact and great to work with. She was always in contact with potential homes when we were looking and also great @ getting the best price when we sold the house.
Mr.M
Pam is an amazing Realtor! She is helpful and makes sure you feel supported through the whole process of buying and selling and is very knowledgeable on how to sell your home fast!
K.Robinson
My wife and I have had the pleasure of working with Pam on two home purchases and one sale. She is tireless and very supportive. Thank you Pam. Greg J.
G.Jones
Love this team! Great group of people and they always treat their clients like they personally would like to be treated. I would recommend Pam and her team to anyone
J.Justice
Pam was extremely easy to work with, very accessible, and willing to communicate in the most convenient way for the customer!
G.Barbetto
Louisville Real Estate Pros has been a great team to work with...Thanks Gerri especially! ~Adair Smith - The Basement Wizard
Basement Wizard
Pam is really knowledgeable and so easy to work with!
Classique Nails
Always going above and beyond, Pam is my realtor for life!
B.Allgeier